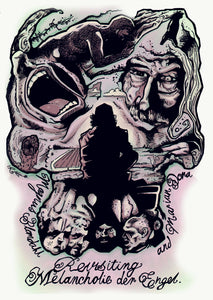 GERMAN: Melancholie der Engel wird vor allem für seine brutale Ehrlichkeit geliebt und für seinen Nihilismus und echten Terror gehasst. Melancholie der Engel ist mehr als nur ein Film
Diese Dokumentation handelt über den Film, seinen Grenzen zwischen Fiktion und Realität als auch über die Person hinter dem künstlerischen Wahnsinn.

ENGLISH: Melancholie der Engel is loved for it´s brutal honestly and hated for it´s haunting acts of Nihilism and true Terror. Melancholie der Engel is more than just a Movie
This Documentar is about that Film, the Borders between Fiction and Reality and the person behind this Artistic Madness.

-Main Movie
-German Subtitles
-English Subtitles
-Introducing the Movie by Marian Dora
-Introducing the Movie by Magnus Blomdahl
-Deleted Scenes
-Hommage to Peter Martell
-Booklet