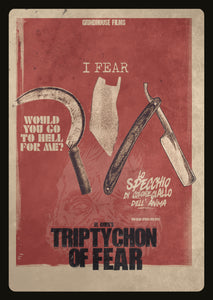 .
The latest production from Grindhouse Films, Episode I ("Would You Go to Hell for Me?") and Episode III ("Lo specchio di colore giallo dell'anima") were helmed by El Gore.  Cedric Endress directed Episode II ("I Fear").
 
Triptychon of Fear stars Isabelle Fitzgerald, Christian Fryska, El Excremento, Claudio De Giacomo, Cedric Endress and El Gore. The anthology features music by Musica Non Grate & Cortello Stigma.
 
Episode I:  Driven by financial problems, a drug addicted couple decides to commit a big crime, so that they can start a new life. Fleeing the scene of the crime, they end up in a wreck, only to discover their nightmare is just beginning.
Episode II: A man finds himself trapped in an old attic, the prisoner of a mysterious force. Desperate to find his way out while surrounded by ghostly apparitions, he begins to lose his mind.
Episode III: A young woman flees to her home, pursued by a mysterious stranger. Safe in her house, she wonders if she imagined the shape that followed her from the park. Settling into a bath, the true horror of her night awaits her.
 
The region free DVD Release (PAL)
of Triptychon of Fear will exclusively include a making of featurette, outtakes, behind the scenes footage, El Gore's never before released short film Salvation, the trailer and a picture gallery.German Language. English Subtitles