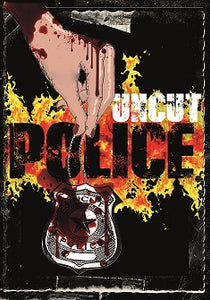 EINE SPEZIALEINHEIT NAMENS UNCUT POLICE WIRD INS LEBEN GERUFEN UND SOLL MIT ALLER GEWALT UND ERDENKLICHEN MITTELN DIE ZENSUR STOPPEN.
Unter der Leitung von Mrs. Fulci nehmen die Cops der Uncut Police - bestehend aus Joe, Umberto und Dario - den Kampf gegen zensierte Medien auf.
Um der Zensur endlich ein Ende setzen zu können, müssen die drei Cops die ominöse Ilsa ausfindig und Dingfest machen. Diese hält sich bekanntlich in der grauen Zone auf und auf dem Weg dort hin sehen sich die drei Cops mit rachsüchtigen Martial Arts kämpfen, Lieferungen von stark zensierten VHS-Tapes, entführten Horrorfilm Regisseuren, seltenen Fischen und Kunden von zensierten Medien konfrontiert.
A SPECIAL UNIT CALLED THE UNCUT POLICE IS CREATED, IN ORDER TO STOP CENSORSHIP, BY ALL MEANS
Under the leadership of mrs. Fulci, The Uncut Police - Consisting of Joe, Umberto and Dario - are out to fight censored media. In order to stop Censorship once and for all, the three cops must find and apprehend ominous Ilsa, who is said to be owelling in the mysterious grey zone. On their way, the Policeman are confronted with vengeful Martial Artists, Shipments of heavily Censored VHS Tapes, abducted horror film directors, rare fish species and buyers of censored media.
LANGUAGE: GERMAN
SUBTITLES: ENGLISH & GERMAN
Special Features:
- UP Retrospect
- Arien vs. Joe
- Premiere
- Danny vs. Waldemar 2003
- Trailershow